MAPS SYSTEM
Basic Information
Maps are the backgrounds that you travel across. They are very beautiful and are always full of planets and stars and things like that.
These are also called the lower maps. When you change maps through the jump portals, a diagram of the maps is shown. The picture below shows this diagram.
The second set of maps ( upper maps ) has the battle map 4-4. You can access 4-4 by going through the portals in the center of 4-1, 4-2, and 4-3.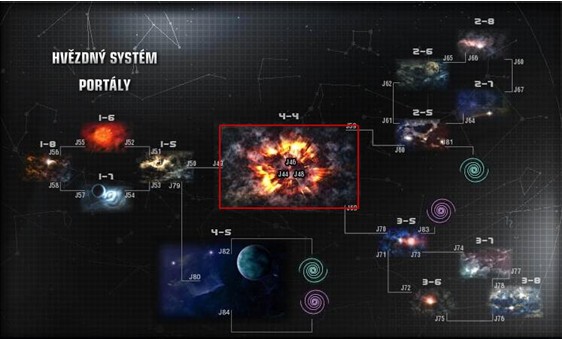 So now you're there: in the middle of a foreign galaxy full of unknown stars and planets. But you are not alone: the map shows you a large number of navigation possibilities and information about your spaceship.
Basic Maps
If you are new player you will find this guide very useful because you will know the danger or rewards of maps even before you enter them and so you wont risk your life for nothing.
X-1
Maps in this category are 1-1,2-1 and 3-1 (1 for MMO, 2 for EIC and 3 for VRU => this applies for every map)
This is first and most important map for new players. on this map you got a base at which you are protected from any attacks (you loose protection if you attack enemy ship until you destroy it or get destroyed or run) and you can sell resources there. Second no-attack zone is at portal which is at most far away corner, this portal can get you to second map (X-2).
In this map you there is greenie-protection and so you can not attack players from same corporation (unless they have target icon instead of rank icon). In this map you can find bonus-boxes which offers you small but very nice reward and the only NPCs are streuners.
If you have level 16 you can enter X-1 zones of enemy corporations but you dont have any kind of protection and no-attack zones dont apply for you.
X-2
Maps in this category are 1-2,2-2 and 3-2.
Within this map you can make money much faster than in the previous. You still have greenie-protection and every portal has no-attack zone around it. Within this map there is much higher risk of meeting opponent (requires only lvl 13 for opponents to enter and thats 4x less experience points compared to lvl 15) but you still will be noticed by yellow line next to your mini-map if some opponent player enter this map.
NPCs you can find here are still streuners but in addition you can find lordakian and boss streuners. lordakians are supposed to fight a bit stronger ships since they are very fast and if they have low HP they will flee and you need high speed to chase them (else they will get stuck at corner of map and you need to fly all the way there).
Note:
When there is spaceball match running on map 4-4 bonus portal to that maps appears on middle of X-2 maps, this portal can be used when you reach level 9 to get you to PVP map 4-4. Important is that there is NO SAFE ZONE around this portal, this means you are not protected from enemy players (the ones from same corporation still cant attack you).
VRU
Tip: you can find very large masses of prometium, endurium and terbium there, very good for advanced missions.
If you have level 13 you can enter X-2 zones of enemy corporations but you dont have any kind of protection and no-attack zones dont apply for you.
X-3
Maps in this category are 1-3, 2-3 and 3-3.
You need lvl 2 to enter this map.
This is first map with some sort of challenge, new players are at high risk. They are much more likely to die here but they can make here much bigger money. Important change is that in this map players from same corporation can attack you.
There are still safe zones around portals but any other areas are dangerous. And second important change is that in this map you dont see enemy-meter next to your map (its that one which shows you how many players from other corporations are in this map) so you need to cooperate with your team mates to know the danger.
NPCs in this map are much stronger and thus you are able to make credits here. On your exploration you can encounter Lordakias, boss lordakias, saimons mordons and mighty Devolariums which are first big enemies, and very rarely you can meet even boss mordons and boss devolarium(watch out for this it can kill you easily with pack of mordons around it).
If you defeat devolarium you will be rewarded around 50 000 credits so strong players use this to help newbies make money fast. Devolariums have so many HP that usually they are killed in teams but stronger players can solo these.
Another risk in this map is that level 5 opponent player can come to this map so you are much more likely to meet player from enemy corporation which is usually going to kill you (in fact why would he come to this map if not?) . Having big boy ship can allow you to make money in this map by killing mordons and teaming on devolariums. And if you get vengeance or goliath then you can be sure that no enemy player will kill you cause you have enough hp to flee. Unless situations when you meet FEG (full elite goliath) which is very big problem for new players.
In this map you can still find bonus boxes and some small amounts of prometium, endurium and terbium (VRU-only tip)
X-4
Maps in this category are 1-4, 2-4 and 3-4, you need level 2 to enter this map,
enemies need lvl 5 to enter it.
This map is for experienced players. Usually high-level ships are here (goliaths, vengeances and big boys) but sometimes it is good idea for weaker player to go here too if your X-3 map is being attacked by other corporations too much. In this map you can see additional portal which leads to PVP map of your company, but don't use this to get rid off attacker because on pvp map you are much more likely to die.
NPCs you can find there are lordakias, mordons, saimons, sibelons and boss lordakias boss mordons boss saimons (they are rare but you can get some xenomit from them) and very rarely boss sibelons which are very deadly even to players with big boy ship.
In this map you won't find much resources, but you are able to find bonus boxes here as usual.
Every portal here has safe zone around it for you but not for enemy (except the one that connects your map with enemies map => but it protects enemies only for 20 seconds). This map is usually used for players with big boys to make money to get better ship or by players with better ship but are below level 12 so they can't enter upper base.
PVP Maps
Maps in this category are 4-1, 4-2 and 4-3 (4 at start means the map is very special, the second number is for corporation... 1 for MMO, 2 for EIC and 3 for VRU).
You need level 8 to enter these.
These maps are only good for fighting Player vs player. If you come to this map with any other reason than fighting players then you should be aware that you can't leave this map while you are in battle. This means you don't have any chance to flee. When you meet enemy player there are only two ways to leave this map. 1st is that you will leave this map as wreck because you loose or second is that you will kill your enemy and so you will be able to leave. Also because this map is meant to be PVP there are no NPCs to kill. In order to compensate this danger those maps have some good things in it... Bonus boxes give you 50% more reward if you pick them up.
Note that amounts are rounded down and so if you pick up bonus box and receive bonus energy for galactic gates generator you will receive only one bonus energy and not two.
In center of each map in this category there is portal which leads to upper space. It leads to hardcore map 4-4 which is PVP too but it will be separated from this category because it is very special.
Also you can not find any resources in these maps.
Battle Maps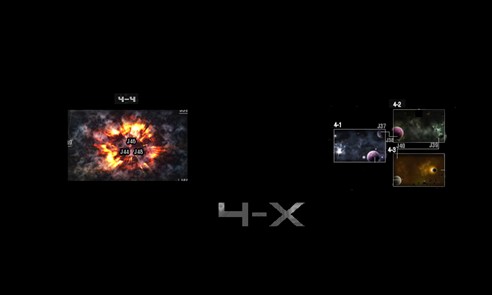 There are 5 battle maps in total, one for each company at X-4 and 2 central battle maps 4-4 that connects to X-4 with three portals in the center of it and 4-5 that connects to X-5. These are incredibly dangerous maps as they have no "no-attack-zones", which means if you are under attack you cannot use a jump portal to escape the battle or logout without being killed.
4-4 is void of any alien presence and the contents of bonus boxes collected there are multiplied by 1.5 but in 4-5 every alien is somewhere on the map and there some aliens that are stronger than bosses. These maps are often sites of massive battles between the companies and it is not uncommon to see large numbers of a particular company camped out at an enemy portal waiting to jump any who wander in.
The upper level maps (X-5, X-6, X-7 and X-8 are only accessible through these battle maps and 4-4 as can be seen in the portal map picture.
WARNING:
ENTER WITH CAUTION! or do not enter at all.
Non-attack Zone
Non-attack zones are places in the map that are neutral, meaning no one can attack no one. But if a player gets attacked with major damage then the neutrality fades.
Non-Attack Zones do not apply to the battle maps. Neutrality of a Non-Attack Zone is neglected if you are under attack before you enter a neutral zone. You can escape an attack in the normal maps by jumping a portal, which is smart, yet might be seen as cowardly by some ships.
Mothership
Your spaceship is positioned in the middle of the current map. You can move on the map by clicking in space. On the bottom right you'll find a mini-map which will help you navigate. On the one hand you have an overview of the sector in which you are traveling. On the other hand, you can cover large distances by clicking on the mini-map. The crosshairs always show you where you currently are.
As soon as you click on the big map - for example, to collect raw materials - the navigation on the mini-map will be interrupted and you will steer your ship manually. The numbers on the mini-map indicate the coordinates in the sector. In addition, you'll also be able to see on which one of the numerous maps you are currently located.
Your travels always start at the mother ship. This is the beginning point of your mission and you can always return here to sell the raw materials which you have gathered. The instruction 'Sell Raw Materials' will appear as soon as you approach the mother ship. As soon as you activate the link, a pop-up window from your company will appear, and you will be paid credits for the raw materials you have gathered.
At the top of your space map you will find displays which are important for your game and for your navigation in space. On the top right under 'Space' you'll see the current loading capacity of your space cruiser, in other words, how much raw material you can still collect. Under 'Cargo Bay', you'll see how much raw material you can load.
Under that you will find an overview of your hit points, in other words, an overview of the status of your spaceship. The more hit points you lose - for example, through attacks or in space battles - the less intact your ship is.
The information about your shields shows you how much protection you have against attacks from enemy spaceships.
On the bottom left in the corner under 'Global' you will find an in-game chat with which you can contact other players. In this way you can discover the galaxy together, help each other, or band together. In the company chat you can talk to players from your own company. You can minimize the chat or expand it. But please remember the chat rules when you're in the chat.
Map Functions
Your first assignment in space is to collect raw materials and either sell them to your company or upgrade your ship with them. We'll come to that later. As soon as you find raw materials, click on them and mining will begin. You can then load these on board -- on the top right you'll see how much loading capacity you still have.
You'll also meet other space cruisers, of course, which want to steal your load. Since the hunt for raw materials is very competitive, you have to protect yourself from attacks. For such situations, you have a number of weapons systems at your disposal. At the bottom of the map between chat and mini-map you'll find six buttons which control attack, defense, and escape functions.
Laser Attack
To protect yourself against enemy spaceships or the treacherous space jellyfish, use the 'Laser Attack' button. Before you attack, however, choose your ammunition in the 'Laser' selection.
Rocket Attack
With this choice you will start a rocket attack. In the hangar, you can outfit your ship with different combat classes of rockets. Select your rocket type under 'Rocket Selection'.
Jump
You've gotten into a tight spot? No problem! Look for the next wormhole and jump to another sector. The wormholes are indicated on the mini-map with a circle. You will find them in the corners of the mini-map. On maps with only one wormhole you will find the mothership.
Extras
The 'Extras' manage your repair robot. You can activate it here so that it can get working on repairing your damaged ship. There will surely be other extras -- we'll come to that shortly.